"Until he extends his circle of compassion to include all living things, man will not himself find peace."
-Dr. Albert Schweitzer
Welcome!
Welcome to the home of Carolina Pet Rescue (CPR)!  CPR is a non-profit organization devoted to helping pets in need of a new home.
Looking For A New Friend?
CPR has many wonderful pets who need good homes.  You can view all of our adoptable pets or click on one of the categories of pets to the left.
How To Help
CPR is an all-volunteer-based organization.  Time, money, and foster homes are all invaluable resources.  Please consider any of the following:
Volunteering - whether it's helping to run an event, cleaning cages (our volunteer hours are Sundays and Thursdays!), or writing articles for our newsletter, everything helps!  Sign up to Volunteer!
Donating - all money goes directly toward caring for the pets in our program.  Vet bills, food and bedding are all costly!  Some of the pets in our program need medical operations, while others regularly need medicine to survive.  Consider Donating!
Fostering - at CPR, foster families are the lifeblood of the organization!  There are so many animals in need throughout our area.  Sign up to Foster!
Find Your Next Pet!
Hi! Won't you consider adopting me? Take a look at me and all of my friends using the links below!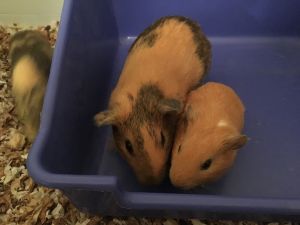 Ah, man's best friend.  Dogs are one of America's most popular pets for a reason!  They come in all different shapes and sizes; are loyal, playful, trainable, and can be very affectionate; and are a joy to take with you wherever you go!  There's a dog to fit every lifestyle.  Please consider fostering or adopting today!